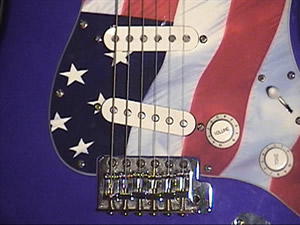 The Morality Rock Story: Defending Urination
by M. Rock
Morality Rock didn't get its start in anyone's garage, or in the Seattle club scene. It got its start in my unassuming and unhip office, where my small desk is cluttered with a variety of computers, peripherals, compact disks, and technical manuals. Morality Rock evolved quite by accident from an experiment with speech recognition software, which dictates computer users' spoken words, converting them instantly into text on the screen.
I had been testing a new speech recognition product and inadvertently left my computer on overnight. When I arrived at work the next morning, I was shocked to find that my computer, in a presumably silent office, had produced a poem:
When The Idaho
over the foot
of the oversight
on 80000

have a high ionizing
a Have Been ionizing
Then a Lead
a Day
the Only When It Was

Nothing in His Essay
a Liaison
Last Move into How the Government Can Occur
Wednesday the DVD Can
I Do

Mounting an Inventor
and a Number
of the Move
Is the Means of Losing

This Is Nicely
on Earnings It Happens
That Ends
in an Omitted
and the Netherlands was Nothing

Removed Disease Toe
Him and I
the from
the Fund
and from the from

Using
If You Have the Time to Come
and Can and Can

the Old
the In
the End
of the Human
The last stanza was particularly chilling, coming from a computer. Needing answers, I frantically asked co-workers, the sanitation crew, and building security if anyone could possibly have been in my office that night. The unanimous answer: No. This led to my belief that my computer was tapping into a deeper reality. Whether these were the voices of ghosts, or far away voices imperceptible to human hearing, my computer was listening, and was recording every word. Perhaps I should briefly describe how speech recognition works. When someone (i.e., user, distant unassuming bystander, or ghost) speaks, my computer receives the signal through a microphone, then translates the incoming auditory signal into binary code. If the signal is distorted (for example, if there's background noise), my computer activates her noise filtration algorithms so she can focus her perception entirely on the speaker to whom she's listening. She then matches the result against the information stored in her vast language database, and does so in a fraction of the time required for comparable processing by the human brain. With a speech processing system this advanced, my computer is far better at ascertaining the contents of a spoken message than I am.
Since that night, I have questioned the reality that I had previously accepted at face value. If the room I'm in seems to be silent, is it truly silent? When you speak to me, do I hear and understand you correctly? When the President speaks, am I hearing the truth? Given my newfound distrust of all words previously trusted, the latter question particularly troubled me. What if we were being subtly, subliminally deceived by our government? What if the actual words of George W. Bush were different than those we perceived? I had to know the truth.
So one by one I fed to my computer the recorded audio from each of the President's speeches, and watched as the words filled my computer's screen, words like these:
From President Bush's First Radio Address to the Nation
Children and parents need better Georges.
From President Bush's Unveiling of his New Energy Policy
Many others, we are the land color hydropower in the year. And other energy shortages are mental pollution in all the hard-hit night.
Loyalist vanity is the land of the late in half, and miles away from the real impact of reservoir and ankle. In Arctic, I like and warmed Millrose. I can literally melt away with a kind, and is going to protect wildlife.
From President Bush's Signing of the Tax Cut Bill
My high energy prices in credit card debt, most ambulatory ballistic hundred dollars tax rebate.
Cash relief making the code more fair for small businesses and farmers and individuals myelinated and high.
It will allow American workers, as more Americans for individual retirement accounts actually disband individual freedom.
From President Bush's Discussion of his Faith-Based Initiative at Conference of Mayors
And the ideological categories into Manhattan government: disability, good work of others, anti-government Israeli torches, and authority neon government, entirely inoculating.
The marriage offices across the country are regurgitating community initiatives in our human lighthouse.
They are likely to eye for public confidence of programs and other churches, then even the automatic anatomy checkers of the American churches.
My administration did not Indian the idea of community in our baloney.
In many of her children, America lives with your money and with impressive results.
From President Bush's Discussion of his Patients' Bill of Rights with House Leaders
A residence is a very important issue for face the life stuff.
I have legislation here and is that the honest arthritis.
From President Bush's Announcment of his Medicare Initiative
Become cigars, and come to health-care.
Grosch Ridge prekindergarten histamine vomiting yeshivas angelfish infant with an inconvenient new drug's Plan.
Atchafalaya is the thing all senior today and tomorrow will be offered.
Most of the current significant Americans pay a higher percentage of their male and others do that.
Medicare respond better than the seniors, especially Lincoln seniors.
From President Bush's Discussion of his First Six Months in Office
Tenacious capital granting good deadlock, adrift in making our system work on a half of the American people.
Within the first, after revitalizing and transforming our military, polygamy diffraction challenges of the future.
My thanks for every legislator who make the decisions. Every legislator and George chose long-term progress over short-term political gain.
It will not, white Americans, come September, be watching a Washington principal nonpartisan Baywatch.
Mistake is a marriage trying to raise responsible, motivated, moral children.
From the 2002 State of the Union Address
As allies will face unprecedented need, use the antihistamine of our union.
CIA officer means grandmothers' relief.
All nations will need our call, and eliminating undercarriage parasites, who for their country's and our own of many nations ranking forcefully.
If you repress the rainy needles, hope for freedom to eradicate a fun hostility toward America.
And I must act to increasing energy production at home so America is less dependent on Florida life.
My encourage the mass manufactories and women in Myasthenia actually, so people have more money.
I have been all of the American People, with a hope to join a mobile, join the President Juan American, the strengthen home encumbered shimmering urination crisis, our First Lady Florida.
As his immersion, America and Nike to join the new USA Freedom.
The rule: Long minutes, unembarrassed day, respect for women, private cockrum, Friess Vichy, evil justice, and religious tolerance.
Rarely has the world faces choices more clear, or consequential crannies.
From President Bush's Signing of the Homeland Security Act
98 representatives are here with affordable Dinwiddie, to make sure that you people are treated fairly.
Live only. Listen to daisywheel organization of the federal government cesareans, who resigned national security.
With all my security, a rainy day can we get, America.
From President Bush's remarks on the First Anniversary of the No Child Left Behind Act
The jobless expect us, we can say, that the work of reform as well gotten. That's true statement.
And many smart cable person who is motivating dedicated, who believes every child can learn the five excellence in that jigger school.
For you is, after all, Eugenio. A lot of needles, they can pay.
Lactating accountability systems commensurately begin excellence.
Intestinalis was in two years ago. Seaweed measured taxes. We wanted to know this year. To know has risen to 74 percent.
The act, the changes, can be accountability systems with incest, and we have had the change in America.
From President Bush's Announcement of his Plan to Stimulate the Economy
In the end, we love our country mordantly.
Return on investment will draw more money into the markets to provide capital to the olfactories.
In critical help to unemployed citizens overall, the olfactories will reduce the tax burden of Americans.
From President Bush's address following his meeting with Pope John Paul II
Urination flowers, conscious of men, natural and human.
From President's Launching of the USA Freedom Corps
To serve your community, defend urination. Bite your ear in service.
From the 2003 State of the Union Address
You shall be foos with liens as timberwolves.
Remember, who hasn't less country is to make the winner today.
For government must have very disinformation possible.
The British government has learned synonymous name recently saw significant quantities of geranium from Africa.
Before Santa Anita worldliness is on, the same can be contained. Chemical agents, legal viruses, and shadowing chairs and works are not easily contained.
In the victories, we shall see the lights reluctantly, because we will cost we grandnieces' morning.
From President Bush's Declaration of War against Iraq
Tucson Iraqi fringe people defend the world from Granger.
Confront will come to know your skill, and grammar begin delivering the witness.
Werewolves around synonymous name have late Iraqi Trojan equipment.
From President Bush's Address to the United Nations General Assembly
24 months ago and last today, in the memory of America I sent. And New York City became battlefield in a graveyard. In December of an unfinished world, since that day such drunken I blossom.
From the 2004 State of the Union Address
You and all America's monthly commitment use your country, and feeding randomness in this pledge, given by one has been can we.
I knew that my computer was neither Republican nor Democrat and had no hidden poltical agenda. I also knew that my computer's hearing was constant and reliable: No gradual deterioration due to a lifetime of loud music or ambient noise pollution; no lifelong accumulation of biases; no distractibility; no verbal competition from the incessant internal monologue that plagues we humans. I knew that I was reading the truth.
As I pondered the new reality that my computer had unearthed, my mind returned to 1982, when Republican Congressman Robert K. Dornan, freaked out by what he believed were Satanic backward messages in Led Zeppelin's "Stairway to Heaven", proposed a warning label for certain record albums. It would read:
Warning: This record contains backward masking that makes a verbal statement which is audible when this record is played backward and which may be perceptible at a subliminal level when this record is played forward.
I wondered what my computer would discover if I fed it Bush speeches that had been reversed. Would it be able to transcribe the President's strange, slurred, twisted, backwards rambling? I had to try. I began by reversing the State of the Union addresses, then ventured into dozens of the President's other speeches. Night after night I gulped down pot after pot of black coffee and stared wild-eyed at my computer screen as it transcribed what it heard:
No way of knowing it, Satan is listening
Satan is the real Messiah
Satan is our head
Soon God will be falling
I listened to the backwards audio myself, and sure enough - the words my computer was transcribing were clearly discernable. My first reponse was utter shock. The President of the United States was a Satanist! My second response was to get out my Stratocaster (the one with the patriotic pickguard - see photo at top) and play along. The President and I jammed all night long, imagining ourselves to be just like Led Zeppelin. I blazed through guitar riffs like a man possessed, and the President provided a steady stream of backwards Satanic messages. With Morality Rock, we have captured that late night session, featuring me on guitars, drums and synthesizers; and President Bush (going by the stage name Hsub W. Egroeg) as the lyricist and vocalist. Listen and enjoy!