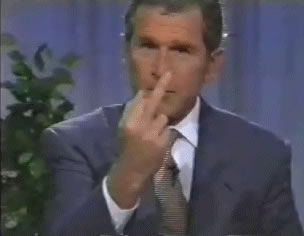 Morality Rock News
Morality Rock Announces Endorsement
Thursday, October 23, 2008
Since 2005, we at Moraliity Rock have served as "the watchdog of America's subconscious", revealing the subliminal backwards messages in the speeches of George W. Bush and setting them to music. Now, as Bush is finally ready to pack his bags and head back to the ranch, we find ourselves in a unique position, as a lame duck artist. What do we do now?
We've tried searching for subliminal backwards messages in the speeches of Barack Obama, but there are none. So, like KISS removing their makeup, it's time for Morality Rock to enter a new phase, making music without the gimmick. However, unlike KISS, we're doing so under a different name: Flow Theory.
Also, remember that KISS only kept their makeup off briefly, then put it back on again? Well, us too. Already Flow Theory has released its first political parody, "Sittin' Down With Spain", featuring guest vocals from the presidential and vice presidential candidates of both dominant parties.
As we enter this new era, we at Morality Rock enthusiastically endorse Flow Theory. Please check out Flow Theory's Flavors CD, and consider buying a copy to keep creativity alive.
And even more importantly, please vote! Recent close state and national elections have taught us that every vote really does count.
Oh, and speaking of KISS, it's amazing how far John McCain will go to get votes. Here he is at a recent campaign rally...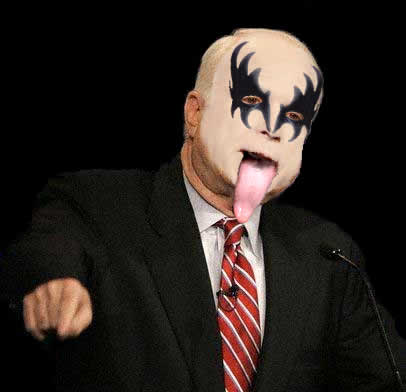 Morality Rock Receives Bipartisan Support from Presidential Candidates
Wednesday, April 25, 2007
Yesterday I was pleased to discover that most of the major U.S. presidential candidates have accounts on myspace. Impressed with their approachability, I asked thirteen of them (six democrats and seven republicans) to be my friend.
In just one day, all but three have accepted my offer of friendship. My best friend is Democrat Joe Biden, who accepted immediately and enthusiastically. In fact, before long all six Democrats (Biden, plus Barack Obama, Hillary Clinton, John Edwards, Dennis Kucinich, and Chris Dodd) had become my friends.
I also expected strong support from Republicans, since I am after all Honorary Chairman of the National Republican Congressional Committee's Business Advisory Council. Indeed, I am pleased to include four of the seven Republican candidates among my closest friends. Tommy Thompson, Ron Paul, Mitt Romney, and Duncan Hunter have all accepted my offer of friendship.
Rudy Giuliani has neither accepted nor rejected my friendship. I suspect that Rudy, unlike the other candidates, doesn't waste a lot of time hanging out in myspace, which is probably a good thing for a presidential candidate. On the other hand, I don't really know anything about Rudy because his myspace profile is private. I don't know about you, but I don't trust a presidential candidate who doesn't want the public to know what he's up to.
Two Republican candidates, Sam Brownback and John McCain, outright declined my offer of friendship, which I confess really hurts my feelings. I felt a particular affinity with Sam, since he and I share a staunch commitment to morality. My response is to simply ask "Why, Sam, Why"? Do you have something to hide??? What will I find if I play your speeches backwards???
Despite my sense of loss at having been rejected by these two losers, I'm overall delighted to have been embraced in friendship by caring individuals from both sides of the political spectrum. Check out my new friends' photos at myspace.com/moralityrock, pictured along side a few of my long-time friends such as bushsux, Anti-Bush, Impeach Bush Now, Worst Prez Ever, Bush Can Fuck Himself, and Tila Tequila.
State of the Union inspires new single
Wednesday, January 24, 2007
Tens of millions of people around the world watched or listened last night as U.S. President George W. Bush delivered his State of the Union address. However, only one man listened to it backwards: M. Rock, the self-described Watchdog of America's Subconscious. For years M. Rock has been listening to Bush's speeches backwards and has cataloged over 100 instances of subliminal messages that reference Satan, sexuality, and drug use. As expected, the 2007 State of the Union Address included each of these.
As has become an annual tradition, M. Rock set several of these subliminal backwards messages to music. The result is a new Morality Rock single titled The Wolf, available exclusively on Morality Rock's myspace page:
The State of the Union address also inspired the creation of some new art work: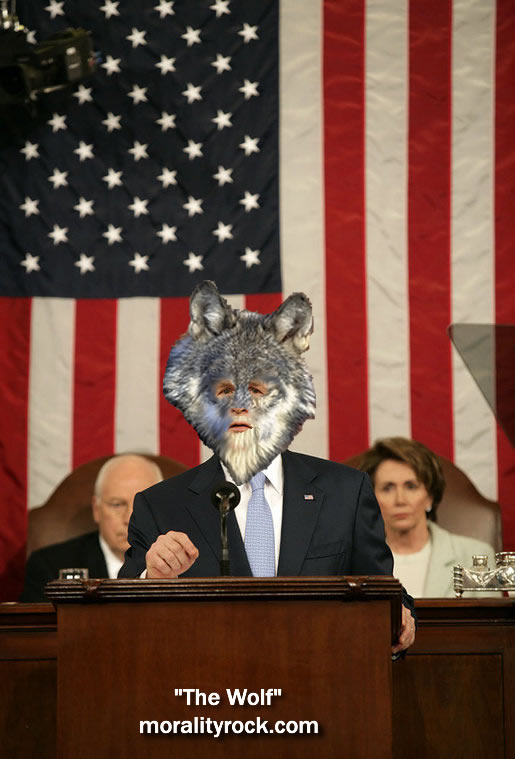 On Genre
Monday, November 13, 2006
Morality Rock is now available at 39 online music outlets, including iTunes, Napster, Emusic, Rhapsody, and Yahoo! Music, to mention only a few. You can also purchase CD's (great stocking stuffers!) at CD Baby and Amazon.com.
However, you won't find Morality Rock in many record stores. Why? I've been told again and again that it has nothing to do with politics (yeah, right). Instead, the most common response I hear from record dealers is "We don't deal in that genre".
This has me thinking about genre, and wondering where Morality Rock fits within the great sitemap that is All the Music in the The World. In terms of musical style, Morality Rock includes classic rock, jazz-influenced dance/techno, accoustic folk, and reggae. OK, OK, so I admit that's hard to label. But if this recording has to be classified, I suppose it would fall best under the category Subliminal Backwards Art. Is anyone else a participant in this genre? If so, I'd love to hear from any SBA's that are out there. Maybe we can collaborate, or launch a World SBA Tour. My dream is that someday, right along with Rock, Jazz, Rap, and Easy Listening, there will be an SBA section in my local record store.
M. Rock Receives National Leadership Award
Friday, August 11, 2006
Believe me, this surprised me as much as it does you. First was the phone call from Republican Congressman Thomas M. Reynold's office, inviting me to serve on the President's Business Advisory Council. Although confused, I naturally accepted, and a day later I received a beautiful 2006 National Leadership Award from the National Republican Congressional Committee (NRCC). It recognizes me as Honorary Chairman of the Business Advisory Council, and bears Congressman Reynolds' own signature honoring me "for outstanding service and commitment To Republican ideals, and in particular for assistance and leadership in promoting a pro-business agenda including tax reform and fiscal responsibility."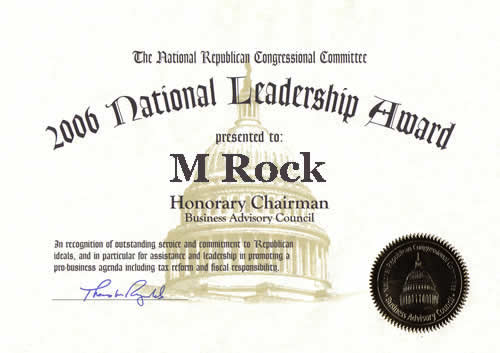 The award was accompanied by the following Press Release, printed on NRCC Business Advosory Council letterhead:
FOR IMMEDIATE RELEASE
M. ROCK APPOINTED TO BUSINESS ADVISORY COUNCIL
Washington D.C. - The National Republican Congressional Committee announced that M. Rock has been appointed to serve on the Business Advisory Council (BAC) in recognition of valuable contributions and dedication to the Republican Party.
Rock is expected to play a crucial role in the Party's efforts to involve top business people in the process of government reform.
The Business Advisory Council is part of the National Republican Congressional Committee, and is dedicated to making sure that small business has a voice in Washington.
Rock, who has long supported Republican ideals, particularly debt reduction and tax reform, will be a key member of the council.
###
Prior to now, it had crossed my mind only briefly that by uncovering the Satanic, overtly sexual, and pro-drug subliminal backwards messages in Bush's speeches I was actually performing a service for my country. It also crossed my mind (again, only briefly) that I was doing my part to promote the need for goverment reform. However, until now I had never before perceived my good work to be supportive of Republican ideals, or indicative of my dedication to the Republican party.
Then again, the push for warning labels on records that contain submliminal backwards messages was led by Republicans back in 1982, so maybe they still perceive this to be their issue. Or maybe they just figured with a band name like Morality Rock, surely I must be Republican. Maybe they even saw the photo of Bush on the Morality Rock home page, and beleived (as Bush himself has tried to claim) that he ain't flyin' the bird - he's just giving the thumbs up!